Better Retreat Data & Reports
Get in-depth data & reports for your retreat business to see exactly what's going on.
Discover More
Create as many custom reports as you want based on your favorite queries
Stress less when scheduling your housekeeping for arrivals & departures
Help your kitchen always be prepared with daily diet-based meal reports
See Your Retreat Business in a Whole New Light
Access all kinds of new data and reports that will allow you to see new trends, plan ahead, and make changes that have an impact.
Build as Many Custom Reports as You Want
Create reports based on some your favorite queries to get more insight into your retreat business.
Get Daily Diet-Based Meal Reports
Have daily meal reports sent to your kitchen to help them stay on top of programs and guest dietary preferences.
Track All Guest Arrivals & Deparatures
Leverage the Arrivals Report to see when guests are arriving and departing each day.
Stay On Top of All Room Cleanings
Use the Housekeeping Report to see exactly when rooms are free so you can schedule cleanings before the next guest arrives.
Customize the Data You Want to Collect
Collect and analyze whatever data you want to help improve the overall performance of your retreats.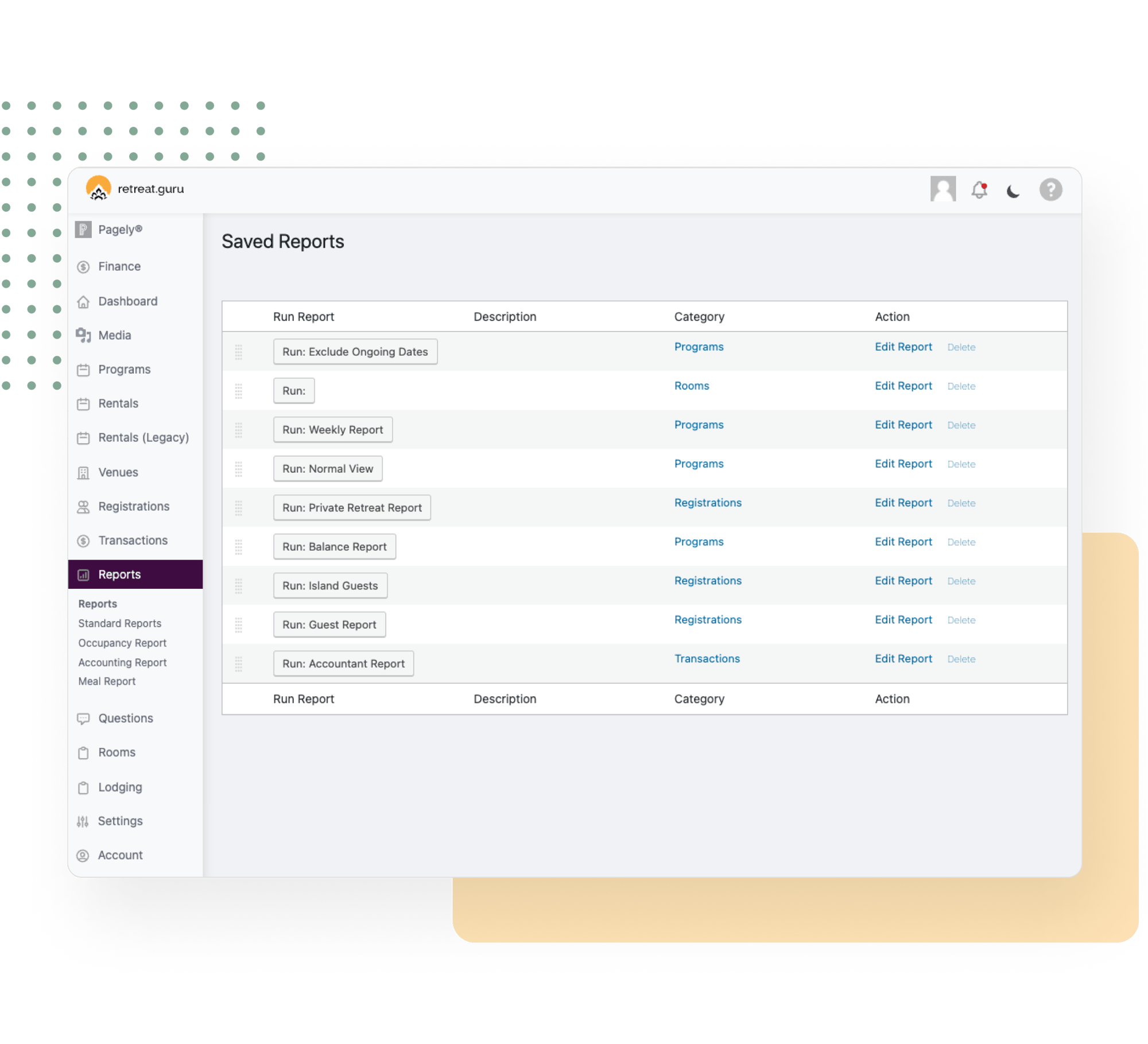 "
We began using Retreat Guru in late 2016. The changeover from traditional hotel booking software was amazing, in that we could easily set up and sell shared rooms. But the system is so much more in that it brought together all departments including dining, housekeeping and convention, whereas the old (high cost) software only provided booking so we were left having to use multiple software to accomplish the same thing. One of the greatest aspects of Retreat Guru is their exceptional customer service!!!

"